Recently, UGI Energy Services (UGIES) hosted energy industry colleagues from the Greater Philadelphia Chapter of the Association of Energy Engineers (GPAEE) to discuss energy market trends heading into the 2023-2024 heating season, as well as to tour the company's Temple LNG facility.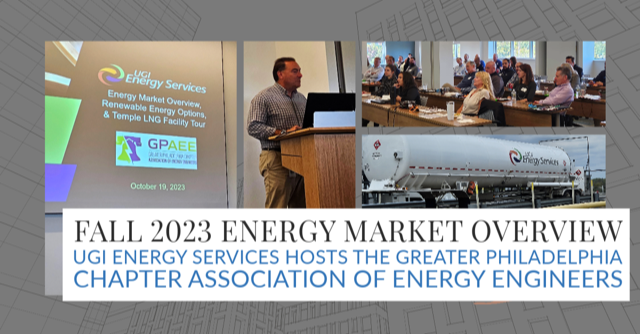 The session began with presentations from the UGIES team at their Knitting Mills offices. (Read more about the legacy of Knitting Mills here).
Presentations began with a welcome from UGI Energy Services President Joe Hartz. Next, members of the UGI Energy Services sales team, Judi Subers and Joe Devine, shared information about the company's services and state of the energy industry.
Senior Business Development Manager John Cook also spoke, highlighting renewable energy options and how these options are essential to America's clean energy future. (See our Q&A with John from earlier this year on UGIES' renewable investments and products for customers).
Following Cook in the meeting's lineup were presenters Lou James, Jacob Swartz, and Jolinda Sciscione who provided an overview of UGIES' liquified natural gas (LNG) business. That business includes decades of experience producing and delivering LNG. A great example of that experience is UGIES' Temple LNG facility, where the group headed to next.
Roughly eight miles north of UGIES' Knitting Mills offices, Temple LNG is strategically located in Berks County, Pa., to serve customers in the Mid-Atlantic and New England. The facility has a storage capacity of 15 million gallons of LNG, or about 1.25 Billion cubic feet (Bcf). It also liquifies natural gas (up to 120,000 gallons per day), and can vaporize natural gas (205,200 Dth/day) and deliver into the Texas Eastern Pipeline (TETCO) as well as to local utility customers. The facility is also equipped with LNG tanker truck loading.
UGI Energy Services was pleased to welcome the GPAEE members. Meetings and tours such as this is just one way UGI is working to share best practices and help the communities we serve make informed energy decisions. We look forward to continue working with GPAEE and other professional and community organizations as sessions like this reinforce our commitment as a "Partner for the Future."
The Association of Engineers is a for information and networking in the dynamic fields of energy engineering and energy management, renewable and alternative energy, power generation, energy services, sustainability, and all related areas. Learn more at https://gpaee.org.