The United Way of Berks County has recently announced its 2022 Campaign Co-Chairs – UGI Energy Services President, Joe Hartz and his wife, Dana Hartz! Joe and Dana Hartz have a long history of supporting the community by volunteering, advocating, and making financial contributions. Together they have participated in United Way volunteer events to pack meals to help prevent hunger in Berks County. During the pandemic, Joe volunteered at food pantries throughout Berks County, to distribute food to those less fortunate. Volunteering is equally important for Dana. Every morning during the week, you will find her exercising shelter dogs at the Animal Rescue League. Their home has become a forever home to many homeless animals. They have played active roles in making the community a better place.
J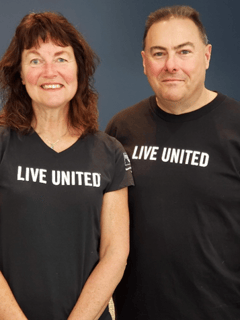 oe has been a member of the United Way of Berks County Board of Directors since 2017 and has recently become a member of the Executive Committee. As a leader of UGIES, Joe's actions underscore why he supports United Way and his efforts to encourage colleagues to be actively involved in volunteering and participating in the annual campaign. Under Joe's leadership, "Team UGIES" hosts an annual charity golf tournament that has raised over $525,000 since 2015. He also champions the United Way of Berks County's Emerging Leaders United program and the Loaned Campaign Specialist Program. Joe and Dana put their caring and compassion into action regularly. Joe shared, "Dana and I feel privileged to join the other UGI leaders that have co-chaired a United Way campaign. Helping our community is a UGI core value and we will use our best efforts to help ensure the success of this year's campaign." Their commitment to community and United Way is why they were asked to serve as the 2022 United Way Campaign Chairs.
Last week, we had the pleasure of attending the United Way Annual Awards Dinner where Joe and Dana spoke about the upcoming campaign. The enthusiasm that radiated throughout the room was captivating. Joe and Dana expressed how pleased and honored they are to lead the campaign this year. It was a wonderful night that encompassed all that is Berks County. We are fortunate to have so many individuals that are passionate about "Living United" and helping our community. Several individuals were honored for their work in the community and their commitment to the people of Berks County. The past few years have offered a unique set of challenges with the COVID-19 pandemic. However, it is clear that as we begin to gather again, the commitment to those individuals and organizations in need throughout Berks County is stronger than ever.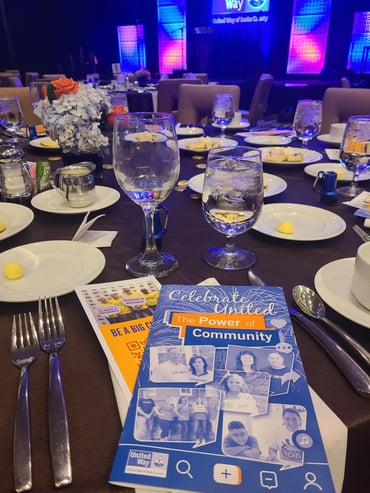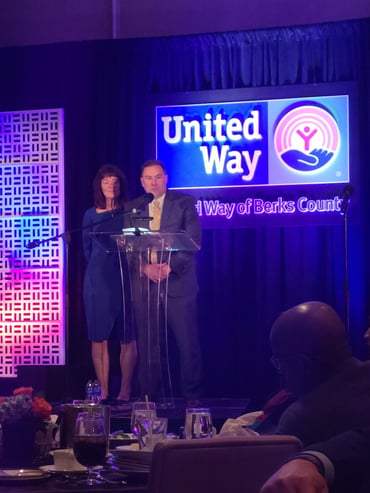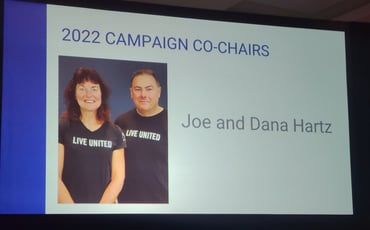 Brad Hall, who retired as President of UGI Energy Services in 2015, and his wife Barbara Hall also spoke at the event. In 2021, the couple received the distinguished Wilbur H. Doran Award for their outstanding work in the community. This award is the highest honor of volunteer recognition from the United Way. At the event, they presented the award to this year's winner, Mike Reese. Brad and Barbara have worked closely with the United Way for many years serving as volunteers and leaders fueling efforts of community impact. To learn more, check out our blog post at https://blog.ugies.com/retired-president-receives-distinguished-award.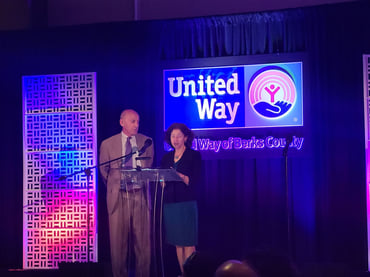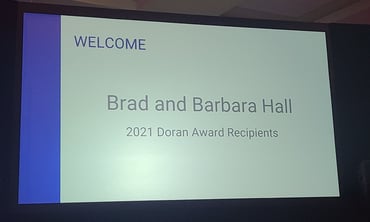 While in attendance, we also learned about some ways for people to get involved through upcoming volunteer activities such as the Big Cheese event. Here, 500 volunteers will pack 250,000 meals to help meet food needs in Berks County. This is always a fun event and continues to be a favorite amongst UGIES employees. The United Way identifies areas in need throughout our community and finds ways to offer guidance, helping hands, and solutions. There are many ways to make a difference and the United Way can help you find local activities. To learn more about upcoming volunteer activities and ways to get involved, check out https://www.uwberks.org/volunteer/.
As we approach this next campaign season, we can't help but feel the unity that is beaming throughout Berks County. We are more than excited for this next chapter in UGI Energy Services and United Way's history. We hope that you will join us in celebrating the accomplishments for our community along the campaign journey. Each person can make a difference and we are so proud of the efforts made every day by members of our county and community.
Stay tuned for more information on the campaign, including kick-off on September 14th! We wish Joe and Dana the best of luck in their efforts chairing this year's United Way of Berks County campaign!