UGI Energy Services, Vice President of Governmental Affairs, Pam Witmer, was awarded a spot in Pennsylvania's Fifty over 50 in October 2022 and was recently recognized on the list of the 2023 Pennsylvania Government Relations Power 100. These awards, presented by City & State PA, celebrate a group of the most distinguished public servants in Pennsylvania.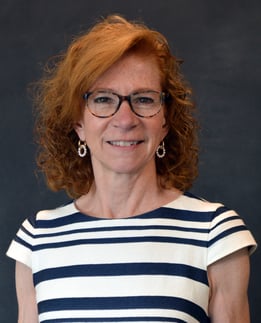 The Fifty over 50 award honors individuals in government and policy who have committed their lives to making Pennsylvania a better place.
According to City & State PA, "This prestigious list includes Pennsylvania's most prominent leaders in government, business, media and beyond over the age of 50." For the full article, visit City & State PA.
On October 11, 2022, an event to celebrate the winners of this award took place in Philadelphia. Here, Pam met with other award recipients and enjoyed an evening of celebration.
"I am honored to have been chosen by City & State Magazine for my work on energy and environment issues. I am fortunate to have wonderful and supportive colleagues at UGI Energy Services as well as so many other incredibly smart and talented people with who I have worked over the years." - Pam Witmer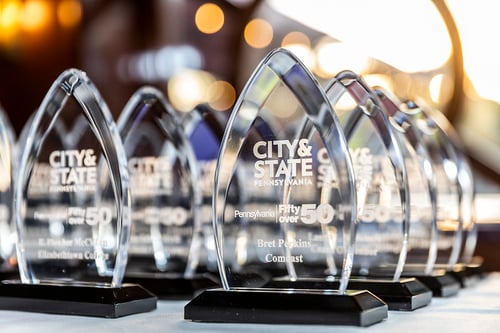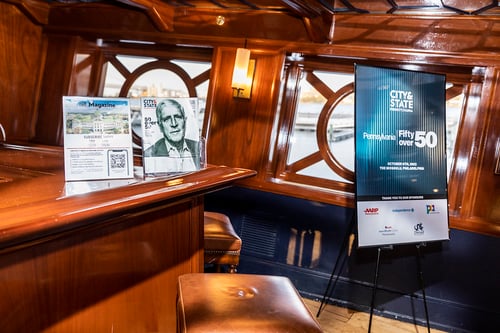 https://www.cityandstatepa.com/feature/pa-fifty-over-50/
On January 17, 2023, Pam was acknowledged as part of the 2023 Pennsylvania Government Relations Power 100.
According to City & State PA, this is the "first annual City & State PA roundup of the most influential individuals helping their companies, organizations and associations communicate their legislative priorities to elected officials at all levels."
They also include that these professionals, "come from a broad spectrum of backgrounds and represent nonprofits, corporations – and even other branches of government – but they are all on this list for the same reason: they make things happen within the halls of power more effectively than anyone else in the field." For the full article, visit City & State PA.
UGI Energy Services is so proud of the impact that Pam has made throughout Pennsylvania and honored to have her as a member of our organization. Congratulations Pam!
Biography:
Pamela A. Witmer is Vice President, Government Affairs for UGI Energy Services (UGIES). In her role, she oversees all aspects of working directly with federal, state and local government officials to ensure open and informative dialogue about UGIES, its business and its assets.
Prior to joining UGI Energy Services, Witmer served as a Commissioner with the Pennsylvania Public Utility Commission (PA PUC). She was nominated to serve as Commissioner by Gov. Tom Corbett on June 7, 2011, and unanimously confirmed by the Senate on June 27, 2011.
As a member of the PA PUC, she was actively engaged with the National Association of Regulatory Utility Commissioners serving on the Critical Infrastructure and Energy and Environmental Resources Committees. In addition, she was appointed to serve on the Communications Security, Reliability, and Interoperability Council of the Federal Communications Commission.
With a long history in energy and environment issues, Witmer led the energy and environment practice for Harrisburg-based Bravo Group, a governmental and public relations firm. She also served on the Corbett Transition Team's Energy & Environment Committee.
From 2000 to 2007, she was President and CEO of the Pennsylvania Chemical Industry Council, a trade association. She formerly served in the Department of Environmental Protection under Gov. Tom Ridge as the lead legislative liaison, where she successfully steered legislation through the General Assembly to create the Department of Environmental Protection and the Department of Conservation and Natural Resources. She also previously worked as a research analyst for the Pennsylvania House of Representatives.
In 2013, Witmer was named as a trustee for Mansfield University. Witmer has served as a member of Women in Pennsylvania Government Relations and the Pennsylvania Association for Government Relations, and has been involved with the Historical Society of East Hanover Township, the YMCA Youth and Government Program, and the Escape Center for Domestic Violence.
Witmer earned a bachelor's degree in public service from the Pennsylvania State University.
A native of Altoona in Western Pennsylvania, Witmer resides in Camp Hill, Cumberland County.