The holidays are a time for thanks and giving, and this year, we did just that! UGI has been busy spreading joy and merriment throughout our communities over the last several weeks. Our employees participated in a variety of charitable activities and donation drives across our footprint. We are so fortunate to collaborate with these wonderful organizations, particularly throughout the holiday season.
Thanksgiving Food Donation Drive
We kicked off the holiday season this year with a Thanksgiving food donation drive benefitting the Salvation Army Reading Corps Adopt-A-Family program. This program serves between 950-1,000 families in the region. We collected an assortment of canned and bagged Thanksgiving food items at our Wyomissing office.
Angel Tree Program
This was our twelfth year participating in the Salvation Army's Angel Tree Program and was once again another successful year! UGIES had over 100 tags to fulfill split amongst Veterans, Seniors, and children in our community. Over 400 gifts were collected and given to those in need in our community. This program continues to be a favorite amongst employees.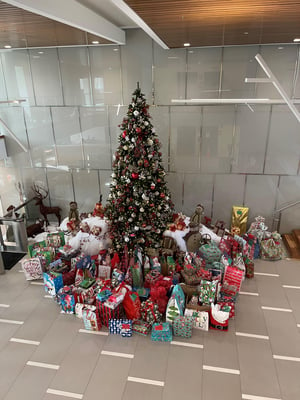 Wreaths Across America
The Wreaths Across America organization remembers our veterans each December with wreath laying ceremonies across the U.S. This year, over 50 volunteers from UGI Energy Services and UGI Utilities Veteran Employment Teams assisted with laying wreaths to honor the fallen soldiers and veterans at Indiantown Gap National Cemetery. We also had the opportunity to sponsor wreaths in which a portion of each was donated to support the Reading Civil Air Patrol Composite Squadron 811.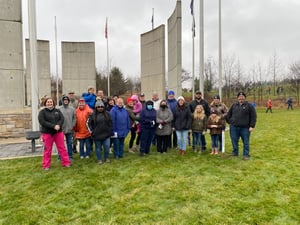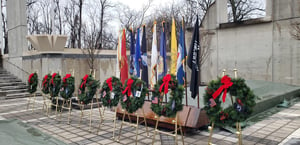 Pathways
Our Canonsburg, PA office partnered with the Pathways organization for a Christmas donation event. Employees purchased presents for 19 children ages baby to pre K from their Rainbow's End Learning Center program. This program is for children who are on scholarship or childcare works subsidy who have a single parent home and are struggling to make ends meet.
They also provided 44 adults with intellectual disabilities, who live in the residential homes and attend the Adult Training Facility, a gift bag that included a hat, pair of gloves, scarf, three pairs of socks, lotion, lip balm and some sensory items. Each adult was also given one present to open. Many of these adults do not have families that they celebrate the holidays with so this was a very special experience. Lastly, employees in our Southpointe, Majorsville and Hickory Bend locations collected a cash donation of $1,125 for the organization.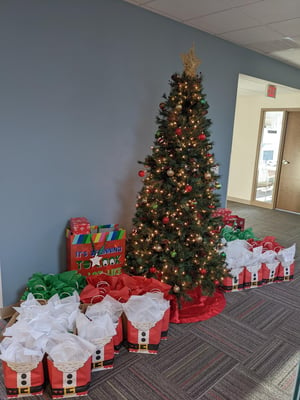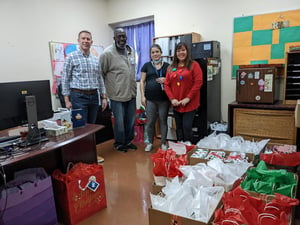 Our Hunlock Creek Energy Center partnered with UGI Utilities to collect donations for the Toys for Tots organization. The Toys for Tots organization collects new, unwrapped toys and distributes them to less fortunate children at Christmas time. Pictured below are a few of our employees with the items they collected.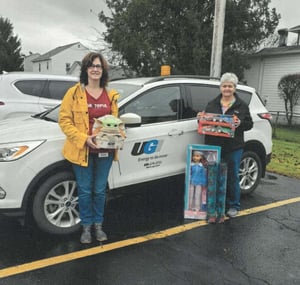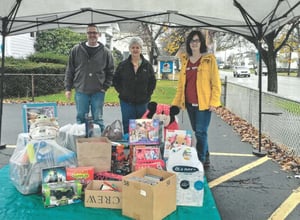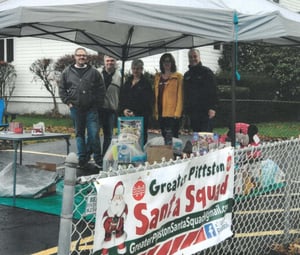 Keystone Military Families Volunteer Event
On Wednesday, December 15th, several of our employees volunteered with the Keystone Military Families organization at their volunteer event. While at the event, they helped with the Christmas shop and assisted with food distribution for military families. This organization, located in Shoemakersville, PA, provides a food pantry and additional assistance to military families. They currently assist over 150 military or veteran families every week with groceries, clothing, household items, and furniture.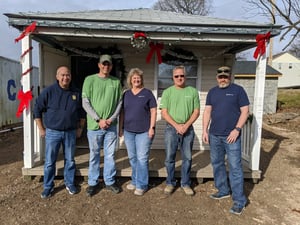 Centro Hispano Breakfast of Thanks
On December 21st, several of our employees attended the annual Centro Hispano Breakfast of Thanks. This event celebrates the spirit of unity through holiday music, food, and giving thanks. This year, Health Care Heroes were honored for their commitment to our community throughout the pandemic. The Centro Hispano organization has continued to operate and serve the community throughout the pandemic. The breakfast supports their mission of service and allows them to continue to address the social determinants of health for the community. This year, they have led efforts to secure over 10,000 vaccinations for those most vulnerable and provided close to 600,000 meals last year through the "Feeding our Families" initiative.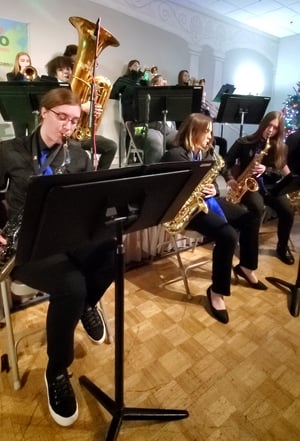 We want to thank our employees and community for all of their generosity this holiday season. We continue to be amazed by the spirit of giving throughout the areas in which we live and work. There is no greater gift then to be able to help our neighbors. Wishing you all a wonderful holiday and a happy and healthy New Year!