October 9, 2021, Reading, PA -- UGI Energy Services, LLC (UGIES), a subsidiary of UGI Corporation, today presented the Veteran's Coalition of Pennsylvania a work truck filled with donated items in advance of the winter season at the Coalition's Mini Stand Down event. The truck, a Ford F-350, and donations were coordinated through UGIES' newly formed Veteran Employment Team (VET).
"We are happy to support the Veterans Coalition of Pennsylvania," said Kevin Grant, Co-Chair of VET at UGI Energy Services. "At UGIES and for the VET Committee, giving back to our Veteran community through donations and volunteering is our way to honor those who have served and their families."
The donated truck and contributions were provided to the Veterans Coalition of Pennsylvania (VCOP) at their monthly Mini Stand Down at City Park in the heart of Reading. The Mini Stand Downs provide an opportunity for local veterans to eat a warm meal and pick up donated clothing and other items.
The VCOP mission is to be part of a sustained effort to help Veterans and their families by partnering with local, state and federal agencies and organizations to assist with reintegration, career development, mentoring, housing and other necessities outside the military. VCOP provides various services for veterans and their families including career counseling, in-house training, personal finance training, mentoring programs and VA benefits guidance with the goal of reintegrating veterans back to life outside of the military.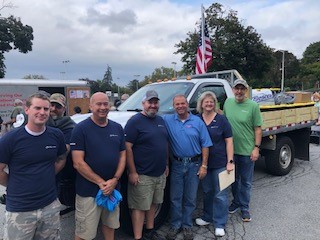 "We are so grateful for UGI Energy Services' VET Committee and their truck donation," said Robin "Cherokee" Gilmore, USAF Veteran and member of VCOP. "With this 'new' truck in our fleet, we are able to transport donations and better serve our local military families."
Visit teamvcop.org to learn more about the Veterans Coalition of Pennsylvania and their Mini Stand Down events. Learn more about UGI Energy Services at ugies.com, and follow UGIES on Twitter at @UGIEnergy and on Facebook at fb.com/ugienergyservices.
About UGI Energy Services LLC
UGI Energy Services LLC markets natural gas, electricity and liquid fuels to commercial, institutional and industrial customers at approximately 43,000 locations in eleven eastern states and Washington, D.C. UGI Energy Services owns and operates natural gas midstream assets such as liquefied natural gas storage and vaporization, underground storage fields, gathering, intra and interstate pipeline systems and compressor stations. These assets support the retail business as well as our electric generation assets, and peaking plants. To learn more about UGI Energy Services, visit: http://www.ugies.com
UGI Energy Services, LLC Media Contact:
Jackie Nawa, Communications & Community Relations Program Administrator, 484-366-7289