UGI Energy Services is always pleased to offer customers a variety of energy options to fit the various needs and requirements of their businesses. As a company, we are committed to delivering affordable, efficient, and socially responsible energy products and services to our end users. We are well positioned and prepared to become a leader in the future of renewable energy. Our organization continues to focus on reducing its emissions, our customers' emissions, and investing in alternative energy solutions. In 2020, UGI Corporation committed to reducing its Scope I (direct) emissions by 55% over the next five years and has additionally pledged to invest up to $1 billion in renewable solutions during that time. UGI Energy Services has also announced several renewable projects and initiatives throughout different states.
Overview of RNG
In recent years, Renewable Natural Gas, or "RNG" has gained more attention as a cleaner source of producing energy. While RNG has been produced for several decades, it is becoming more accepted as a viable alternative to conventional fossil fuels. RNG is pipeline-quality gas that is fully interchangeable with conventional natural gas. It can also be converted to compressed natural gas (CNG) or liquefied natural gas (LNG).
RNG is a biogas, which means that it is produced from organic matter such as manure and food waste that has been processed to purity standards. To produce RNG, impurities such as Carbon Dioxide, Hydrogen Sulfide, Oxygen, Nitrogen and other gasses must be removed to meet strict pipeline and utility quality standards.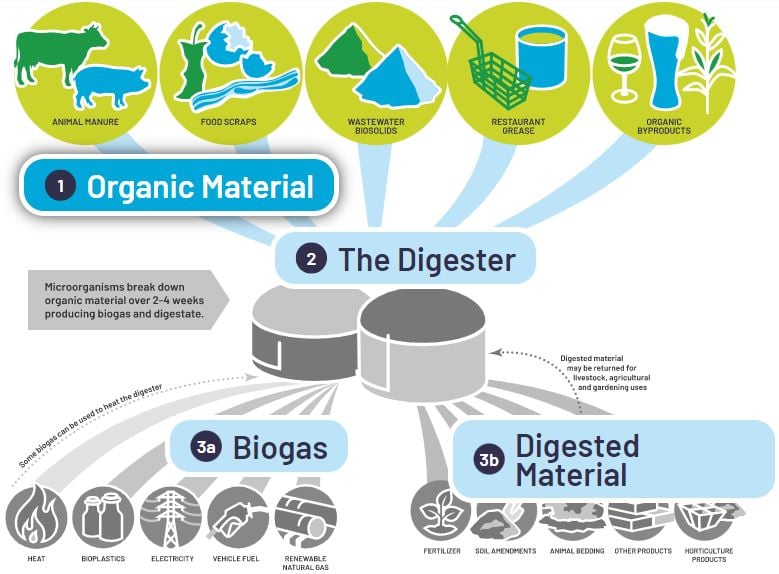 https://americanbiogascouncil.org/resources/why-biogas/
Due to an increased awareness in environmental concerns and a focus on clean energy alternatives, demand for RNG is growing worldwide. Compared to its fossil fuel counterpart, RNG is a low-carbon alternative. According to the EPA, when applied as transportation fuel, "fuels must achieve a reduction in greenhouse gas (GHG) emissions as compared to a 2005 petroleum baseline." This baseline can be anywhere between 20 to 60%.
https://www.epa.gov/renewable-fuel-standard-program/overview-renewable-fuel-standard
The process of capturing and utilizing fugitive methane emissions from sources like landfills, manure lagoons, and wastewater treatment plants, results in a reduction in the emission of these gasses into the atmosphere.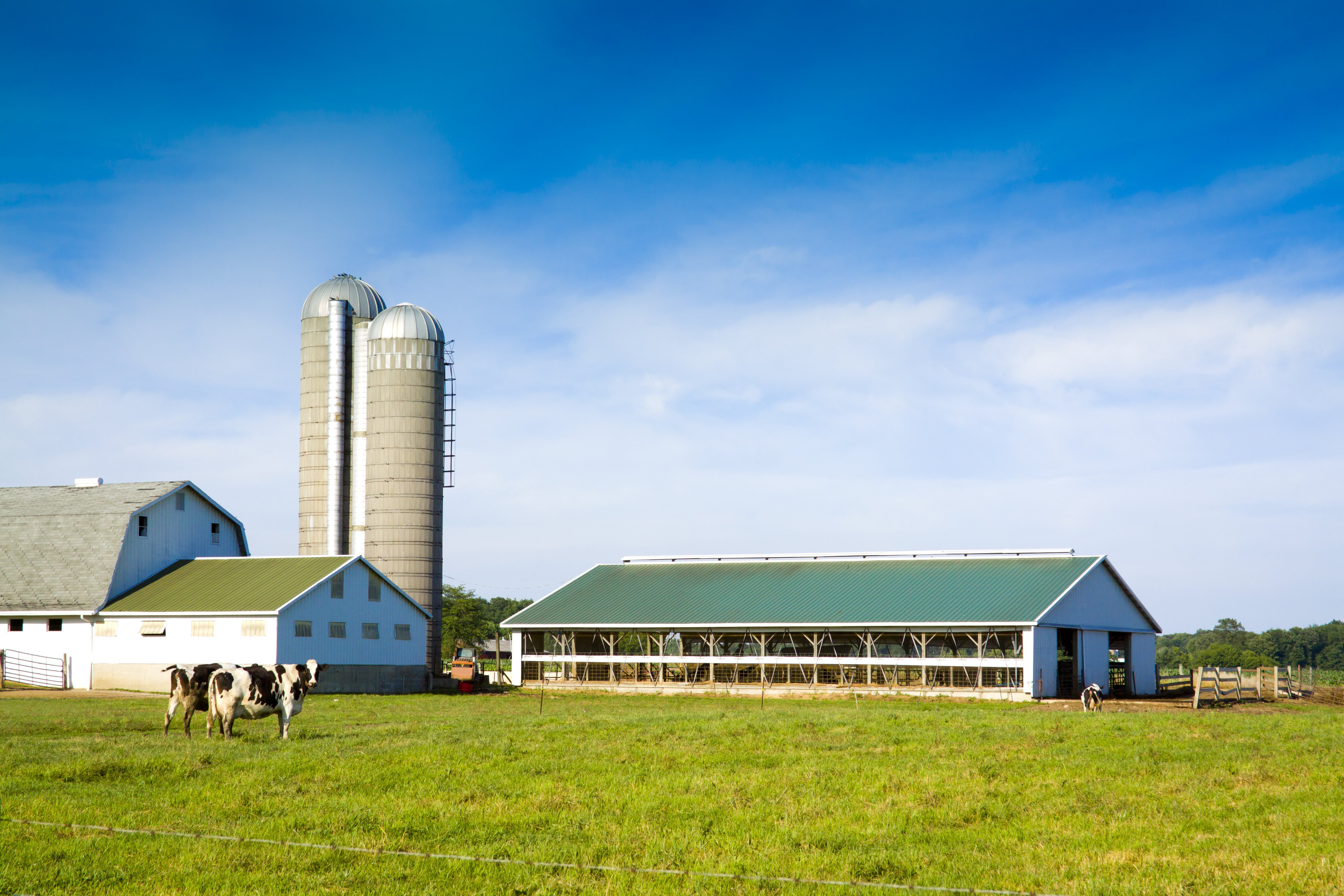 GHI Energy
UGIES currently offers renewable natural gas options through GHI Energy. GHI Energy works with fleet owners primarily in California and supplies them with RNG sourced from all over the country. There are several benefits for fleet operators who use clean RNG to power their vehicles. Some of these include financial incentives and the ability to lift their sustainability and brand image by showing a concern for the environment and community when they use RNG.
The experts from UGIES and GHI can help customers navigate the natural gas and carbon credit markets, maximize fleet value, and reach their renewable energy goals. For more information on GHI Energy, visit https://ghienergy.com/.
Projects
Hamilton RNG Holdings, LLC
In August of 2021, Hamilton RNG Holdings, LLC, a joint venture owned by UGI Energy Services, LLC and Synthica Energy, LLC announced that it would develop innovative food waste digester projects to produce renewable natural gas in Ohio and Kentucky. The first project is Synthica St. Bernard, which is being developed in the village of St. Bernard, Ohio.
The project will consist of constructing an anaerobic digester, which will process approximately 190,000 annual tons of food waste from nearby food manufacturers. The project should generate approximately 250,000 MMBTU's (million BTU's) of pipeline quality RNG each year. The RNG produced will be injected into a local natural gas pipeline on the regional distribution system. The project is expected to be completed in the first half of calendar year 2023.
Hamilton RNG Holdings is also in the process of developing other RNG projects in Ohio and Kentucky. Check out our press release for this project at https://blog.ugies.com/ugi-and-synthica-energy-partner-to-develop-renewable-natural-gas.
Cayuga RNG Holdings, LLC
UGIES recently announced two RNG projects through the joint venture firm of Cayuga RNG Holdings, LLC. Along with partner Global Common Energy, LLC, UGIES is pleased to take on these projects in Cayuga County, in the Finger Lakes region of New York.
The first project in development is at Spruce Haven Farm. Spruce Haven is a family farm founded in 1987 that focuses on responsible and sustainable farming. The farm acts as a research and development center for the dairy industry and its research has improved dairy performance globally.
The project at Spruce Haven Farm will incorporate an existing anaerobic digester that generates biogas, which is used to produce renewable electricity. The existing digester began operating in October 2014. The farms goals are to improve waste, odor, and nutrient management. The second digester is expected to be completed in the second half of 2022 and will produce approximately 50 million cubic feet of RNG each year from on-site dairy waste feedstock.
The second project will take place about 5 miles away at Allen Farms. Allen Farms, established in the early 1950's, supports land stewardship and resource conservation. This particular project will entail the construction of an anaerobic digester and a combined heat and power project. The completion of this project is also anticipated in the second half of 2022. This project is expected to produce approximately 85 million cubic feet of RNG each year once completed.
Check out our press release covering these two projects at https://blog.ugies.com/ugi-and-global-common-energy-add-a-second-renewable-natural-gas-project-in-upstate-new-york.
MBL Bioenergy
In September 2021, MBL Bioenergy announced their plans to develop several clusters of dairy farm digester projects to produce renewable natural gas to farms in South Dakota. MBL Bioenergy, LLC, is a joint venture funded by UGI Energy Services and two premier dairy digester development companies, California Bioenergy, LLC and Sevana Energy, LLC.
The projects are expected to produce 650 million cubic feet of RNG annually, which will be delivered to local natural gas pipelines serving the regional distribution system. The projects will represent over a $100 million investment in RNG by MBL Bioenergy. The infrastructure is expected to be completed and on-line by the end of calendar year 2024.
Check out our press release for this project at https://blog.ugies.com/ugi-partners-with-california-bioenergy-and-sevana-bioenergy-to-develop-rng-dairy-digester-projects-in-south-dakota-through-mbl-bioenergy.
For more information on Renewable Natural Gas, contact John Cook (jcook@ugies.com).
Visit our Renewable Energy page to learn more about other renewable energy options.