Super Bowl weekend is quickly approaching! Not only will it be a time to watch the Buccaneers and Chiefs fight for football glory – it also is one of the absolute best days for eating! As the weekend draws near, it is time to run to the grocery store and grab the ingredients you need for those delicious recipes you plan on having.
Looking for some inspiration on what to make? We asked our employees for some of their favorite Super Bowl Sunday recipes and we gathered them below! We hope you try some for yourself or put your twist on these classic food dishes.
"I've been training all season to eat at a Super Bowl Party level."


Katie: Cheesy Beef & Sausage on Party Bread
"This is a recipe I always whip out for the big game! My mom used to make these on Super Bowl Sunday growing up, and I decided to keep the tradition going! Not only is the recipe delicious, it feeds a crowd which is perfect for a party!"
Ingredients:
1 lb. ground beef
1 lb. ground sausage
1 lb. Velveeta
¼ c. Worcestershire sauce
1 loaf of small party bread – like Rye or Pumpernickel
Instructions:
Ground beef and sausage together on stovetop. Drain fat.
Add Worcestershire sauce and Velveeta. Stir.
Place meat and cheese mixture on top of pieces of party bread.
Bake at 425 degrees for about 8-10 minutes on a cookie sheet.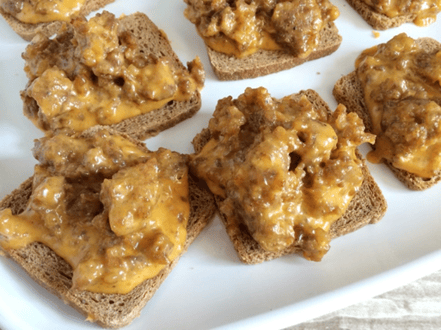 Jackie: Spinach and Artichoke Dip
"I love this recipe, especially for game day! It's simple to make and is always a big hit. Plus, the spinach makes it healthy, right?"
Ingredients:
2 cups frozen spinach (thawed and drained)
6 oz artichoke hearts (canned and drained)
4 oz cream cheese
1/2 cup grated parmesan cheese
1/4 cup sour cream
1 tsp minced garlic
1/4 tsp salt
1/4 tsp pepper
Instructions:
Thaw and drain frozen spinach and set aside.
In another bowl combine room temperature (or microwaved) cream cheese, sour cream, parmesan, garlic, salt and pepper.
Add spinach and drained and chopped artichoke to cream cheese mixture and combine well.
Pour mixture into a baking dish and sprinkle with additional parmesan cheese on top.
Bake at 350 degrees for 30 minutes and broil for 3-5 minutes until cheese turns golden brown.
Serve warm with crackers or veggies.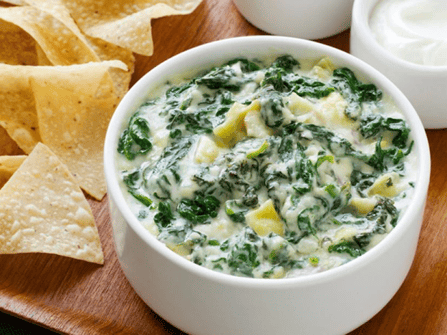 Mindy: Crab Dip
"One of my favorites!"

Ingredients:
2 (8 oz.) cream cheese
¼ cup mayonnaise
1 tsp. Worcestershire sauce
1 (6 oz. or more) can petite shrimp (deveined if available)
2 tbsps. lemon juice
½ cup chopped celery
1 package of crab meat (imitation crab meat works great too!)
Topping:
¾ cup cocktail sauce
2 tbsps. sweet relish
Instructions:
Mix the first 7 ingredients together, place into a mound and refrigerate.
For the topping:
Mix and spread over the top of the mound. Refrigerate until ready to use.

Angela: Taco/Nacho Bar
"This one's more of an idea than a recipe, because everyone knows how to make tacos! Instead of one set dinner serving, this one can be set up to make your own way anytime (or multiple times) throughout the party."
Ingredients:
Ground meat (such as beef or turkey)
Taco seasoning (I always add extra seasoning!)
Toppings of your choice:
Shredded cheddar cheese
Hot sauce
Taco sauce
Nacho cheese sauce
Salsa
Guacamole
Sour cream
Lettuce
Black and green olives
Jalapenos
Hard and soft taco shells / Nacho chips
Instructions:
Cook ground meat. Drain fat. Add taco seasoning and cook according to instructions.
Transfer taco meat to a crockpot and keep on low.
Prep all toppings and set out on the "bar" with hard and soft taco shells and nacho chips for easy make-your-own tacos or nachos.
Grab a plate, load it up your way, and enjoy the commercials – I mean, the game!

Michelle: Alfredo Chicken Lasagna
"My kids love this recipe – that is how you know it is a good one!"

Ingredients:
1 can of evaporated milk
2 skinless, boneless chicken breast
1 package of ranch dressing mix
9 lasagna noodles
1 cup of Alfredo sauce
1 ½ cups of shredded mozzarella cheese (can add more cheese if desired)
¼ cup of cooked bacon crumbled
1 pinch of dried oregano
1 pinch of garlic salt
Instructions:
Heat oven 350.
In a skillet add milk, chicken and ranch dressing. Cook until chicken is no longer pink.
Cook the noodles according to package.
Spread the Alfredo sauce all over the chicken.
Combine mozzarella, bacon, oregano, and garlic salt in a separate bowl.
Layer the noodles, chicken, and cheese mixture until ingredients are gone.
Cook in oven for 35 minutes.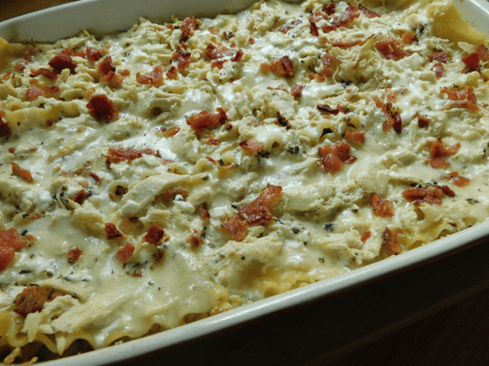 Kelli: Buffalo Chicken Dip
"This is my Super Bowl go-to dish! And an incredible basic one!"
Ingredients:
2 cups shredded cooked chicken
1 package (8 ounces) cream cheese, softened
1/2 cup Frank's® RedHot® Original Cayenne Pepper Sauce
1/2 cup ranch dressing
1/2 cup blue cheese crumbles
Instructions:
Preheat oven to 350°F. Mix all ingredients in a large bowl. Spoon into shallow 1-quart baking dish.
Bake 20 minutes or until mixture is heated through; stir. Sprinkle with green onions, if desired, and serve with chips, crackers and/or cut up veggies.