Author: Ryan McCormick, Regional Energy Manager
Like most companies and organizations, energy costs are a significant portion of your operating budget. If you are not prepared, energy market price fluctuations can quickly become volatile and create avoidable budgetary challenges. Let's work together to take control of your energy.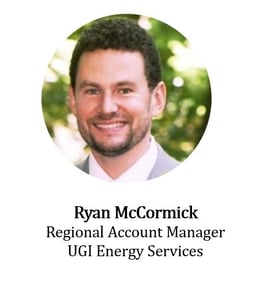 As your Energy Manager, my role is to help you mitigate exposure to energy price volatilities by providing market expertise, purchasing confidence and budget certainty. You can achieve this by partnering with a reliable, knowledgeable energy supplier like UGI Energy Services, as our team will help to explain the various ways in which you can purchase energy and to create a customized purchasing strategy for your organization.
UGI Energy Services is a local full-service energy marketer that owns and operates strategically-located natural gas storage, pipeline delivery assets, and electric generation assets, strengthening our ability to deliver competitive solutions that are highly reliable both financially and physically. Backed by a Fortune 500 Company with an excellent industry reputation spanning over 140 years, UGI Energy Services is positioned to help customers optimize their natural gas and electric supply needs, ultimately creating budget certainty and freeing-up customers time to focus on other core business functions.
I specialize in providing highly-personalized services to help structure a detailed plan that is tailored to meet your specific needs and operational objectives. Your short- or long- term purchasing solution will have no billing issues, no supply problems, and no surprises.
To learn more about UGI Energy Services, visit Why Choose UGI Energy Services
UGI Energy Services Renewable Energy Options Cleaner & Greener
How Do the Energy Markets Change?
The dynamics of the natural gas and electric markets in the Northeastern United States have changed significantly subsequent to the Marcellus Shale revolution (fracking). Historically, a large percentage of natural gas supply and deliveries came from offshore production and gathering systems in the Gulf of Mexico. Natural gas formerly had to be transported long distances to the Northeastern market area via interstate pipelines. The ability to now efficiently gather local and abundant cost-effective natural gas in Pennsylvania, West Virginia, and Ohio (coupled with developing pipeline infrastructure in the region), has revolutionized the natural gas market in the Northeast. This has also positively impacted electric supply pricing, as low-cost natural gas has become the main fuel source for many regional generation plants.

In addition to these recent changes in the natural gas and electric markets, there are many factors affecting energy market pricing. Weather is fundamentally the most impactful industry variable. Cold or warm temperatures can cause increases or decreases in demand and price levels for various reasons, including heating (winter) and natural-gas powered electric generation (summer). Hurricanes and winter storms (like the Polar Vortex) can wreak havoc and cause infrastructure disruptions causing dramatic, though usually short-term, pricing fluctuations and volatility. On the supply-side, changes in natural gas production and storage levels (primarily heading into the winter heating season) can play a role in influencing market volatility.

In this evolving energy environment, we must change the way we approach and purchase energy supply in order to take advantage of new local pricing trends and low-cost energy supply opportunities. UGI Energy Services owns and operates local energy assets and also works with many energy channel partners to improve and ensure competitive market pricing. Our team is confident that we can provide excellent service and competitive supply proposals for your review and consideration.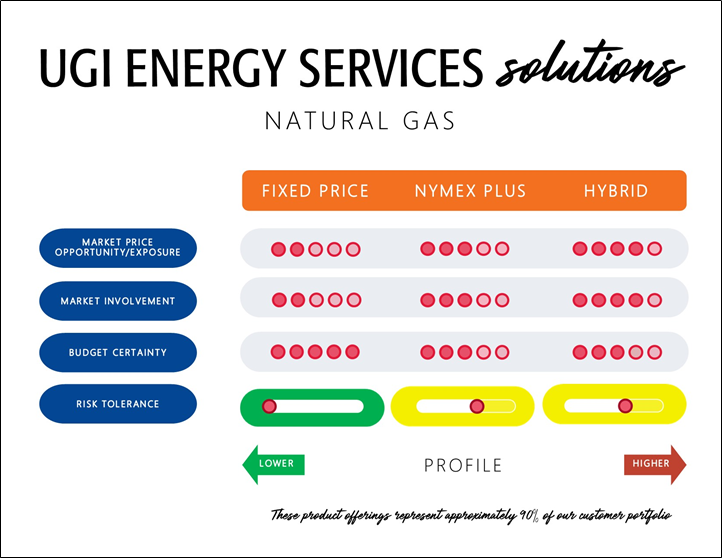 What Natural Gas Pricing Options are Available?
Risk tolerances, market involvement, and budgetary needs differ between organizations. UGI Energy Services natural gas solutions can be tailored to each customer's unique needs. Our team offers solutions that allow you to be more involved in your energy purchasing decisions to take advantage of favorable market conditions to minimize risk by locking fixed pricing and/or hybrid product offerings.
Our partnership begins with a preliminary consultation to learn about your organization's operations and energy usage, budgetary goals, and to help answer any questions. This process will include a review of your business' historical energy usage, invoices, and future energy forecasts. Our team will then provide specific solutions structured to align with your unique needs and objectives, as well as a detailed summary and savings analysis. We will work collaboratively to develop a strategic solution and risk management scorecard to help you make informed energy supply decisions.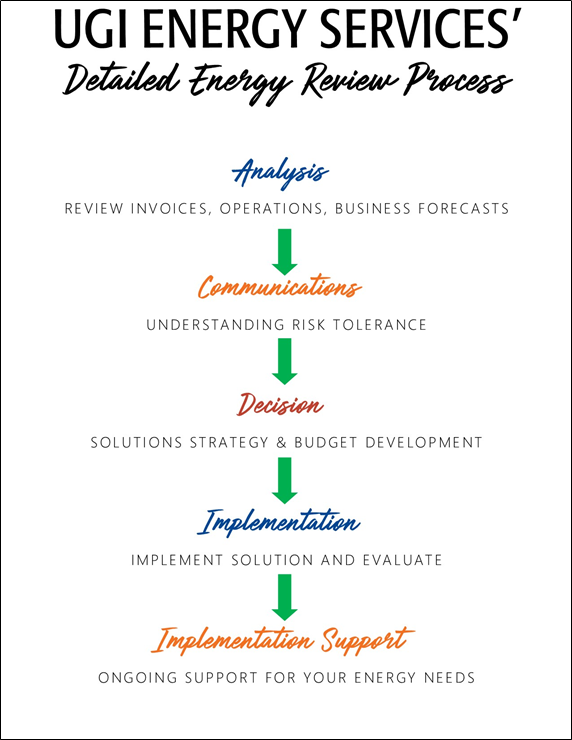 What Components Make Up a Natural Gas Price?
Commodity (NYMEX):
The commodity portion of your natural gas supply price is the price of the natural gas itself. This cost component is publically traded on the New York Mercantile Exchange (NYMEX) and is often referred to as "the NYMEX". All UGI Energy Services products give you the flexibility to lock NYMEX in various amounts at any time throughout your contract - making energy supply purchasing easier. Depending on your organization's geographical location, this portion can make up approximately 80-90% of your natural gas budget. It also tends to be the most volatile cost component.

Purchasing Commodity:
NYMEX can be locked in at a fixed price, left to float at
prevailing market rates, or some combination of the two. For
example, you could purchase 50% of your estimated NYMEX
needs now, and keep the other 50% at market price and/or use
NYMEX Triggers (explained below), to further mitigate your
market exposure.

Commodity Triggers:
To improve and control volatile commodity costs, UGI Energy
Services can structure and implement a flexible plan based on
predetermined NYMEX triggers (volume and price). This helps
to meet your budgetary targets and provides protection from
potential price spikes, while giving your business the
opportunity to capitalize on price dips. For example, we can
structure your contract to automatically lock specific volumes of
natural gas when market prices hit a specific high or low price.
Our team can help you determine what prices and volumes
would work best for your organization based on your budget
and risk tolerance.

Basis:
The basis (or pipeline reservation/transportation cost) portion of your natural gas supply price is the price of transporting and delivering your natural gas to a specific geographical location. This cost component is highly sensitive to physical pipeline system constraints and network supply limitations. For example, the cost of delivering a specific amount of natural gas to the Pittsburgh market area will differ greatly from the cost of delivering that same amount of gas to the Philadelphia market area over the same time period.

Purchasing Basis:
By locking the basis component of your natural gas spend, you
can mitigate regional market delivery price volatility. UGI
Energy Services' products provide the added flexibility to lock
some or all of your basis cost throughout the life of your
contract. Our team can help you to determine what portion of
your basis needs should be locked to best fit your
organization's budget and risk tolerance.


What Natural Gas Products are Offered in a UGI Energy Services Contract?
Our team will recommend an energy purchasing strategy that is customized to your business' unique needs. These strategies can range from locking 100% of your energy needs into a fixed-price agreement, to taking advantage of market pricing, to a hybrid purchasing plan.

Fixed Price: Low Risk Tolerance
Provides price certainty for periods ranging from several months (winter lock) to several years. Locking into the certainty of a fixed price plan can help you to easily manage your energy budget with little to no market involvement. A simple fixed price contract can reduce or even eliminate price volatility and market risk, ensuring that your natural gas rate will be consistent and predictable through the term of the agreement.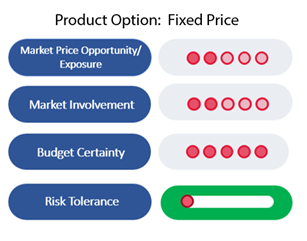 Pros: Budget certainty, low client involvement, reduce or
eliminate risk associated with market price increases
Cons: Unable take advantage of favorable market price
decreases

Customer Profile: Budget-Sensitive, Low Client Involvement
• Churches
• Hotels
• Commercial
• Restaurants
• Schools
• Nonprofit Organizations
• Government
• Small Businesses
• Property Management
NYMEX Plus: Medium Risk Tolerance
Provides increased market involvement that creates opportunities to take advantage of favorable pricing while also insulating your budget from potential risks and market price spikes. This product locks the basis portion of your natural gas spend to reduce some pricing fluctuation.
Pros: Opportunities to capitalize on advantageous NYMEX
market pricing
Cons: More risk associated with potential NYMEX market price
increases

Customer Profile: Medium-Risk Tolerance, Medium Client
Involvement
• Industrials
• Manufacturing
• Healthcare
• Small Businesses
• Commercial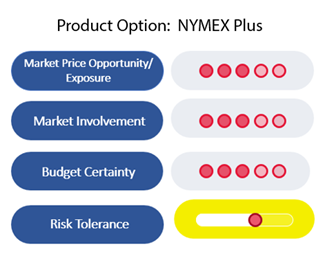 HYBRID/Portfolio Blend: Medium Risk Tolerance
Provides increased market involvement and flexibility, but requires a proactive and advanced purchasing strategy. With this solution, you can opt to lock in portions of your NYMEX and/or Basis at specific times, set NYMEX triggers, and overall be more flexible in your purchasing options. Our team will be there to help you every step of the way to help you make informed gas purchasing decisions, as we proactively monitor the energy markets daily.

Pros: Opportunities to capitalize on advantageous market
pricing without the risk of a pure market-based rate.
Cons: Higher client involvement

Customer Profile: Medium Risk Tolerance, Higher Client
Involvement
• Industrials
• Manufacturing
• Small Businesses
• Commercial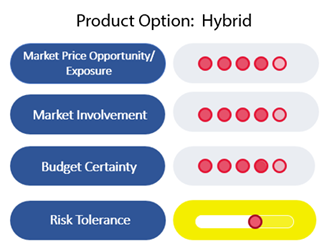 How Do I Begin an Evaluation for My Organization?
Still not sure which natural gas purchasing strategy is best for your company or organization? Not an energy expert? Don't worry – that's our job! The best way to get started is to set up a free, no-obligation consultation with an energy sales expert from your local area. This could be a short phone call, an email exchange or even a Zoom call. Together we can discuss your organization's operations, past energy usage, and anticipated energy needs. Through our conversation of your budget and risk tolerance, we can being to work on a purchasing strategy tailor-made to your unique needs, and offer several solutions and proposals for consideration. UGI Energy Services seeks to build long-term, trustworthy relationships with our clients to become a true partner in the success of your business.
About the Author:
Ryan McCormick is a Regional Energy Manager for UGI Energy Services, and a Certified Energy Procurement Professional. Based locally out of one of our regional offices, he serves customers in eastern Ohio and Pennsylvania market areas. Ryan's customer portfolio includes customers in various industries including healthcare, commercial, industrial, small business, and educational institutions. To learn more about Ryan's expertise or to contact him, visit his Profile Page.