With an ever-growing customer base, most people know and trust us, but do they know all that we offer? UGI Energy Services supplies and markets natural gas, liquid fuels, and electricity to 42,000 customer locations across the Mid-Atlantic and Northeastern US. Our portfolio of products and services includes natural gas, electricity, liquefied natural gas, propane and liquid fuel oil, midstream services, and renewable energy. We are continuously developing our processes and product offerings to meet our customers' needs now and in the future. In a changing market and world, we pride ourselves on being a knowledgeable provider that can weather any storm. In this article, we will offer a brief synopsis of each of our products and services so you can choose the one that is right for you!
First, let's discuss our most commonly associated product: natural gas. According to the EIA, "Natural gas is a fossil energy source that formed deep beneath the earth's surface. Natural gas contains many different compounds. The largest component of natural gas is methane, a compound with one carbon atom and four hydrogen atoms (CH4). Natural gas also contains smaller amounts of natural gas liquids (NGLs, which are also hydrocarbon gas liquids), and nonhydrocarbon gases, such as carbon dioxide and water vapor. We use natural gas as a fuel and to make materials and chemicals." UGIES is unique in that we are an energy marketer who owns and operates our own natural gas storage and delivery assets. This offers an extra layer of assurance that we are able to meet all of your natural gas needs in a timely and cost effective manner. We offer a variety of pricing options from which you can choose based on your requirements and comfortability.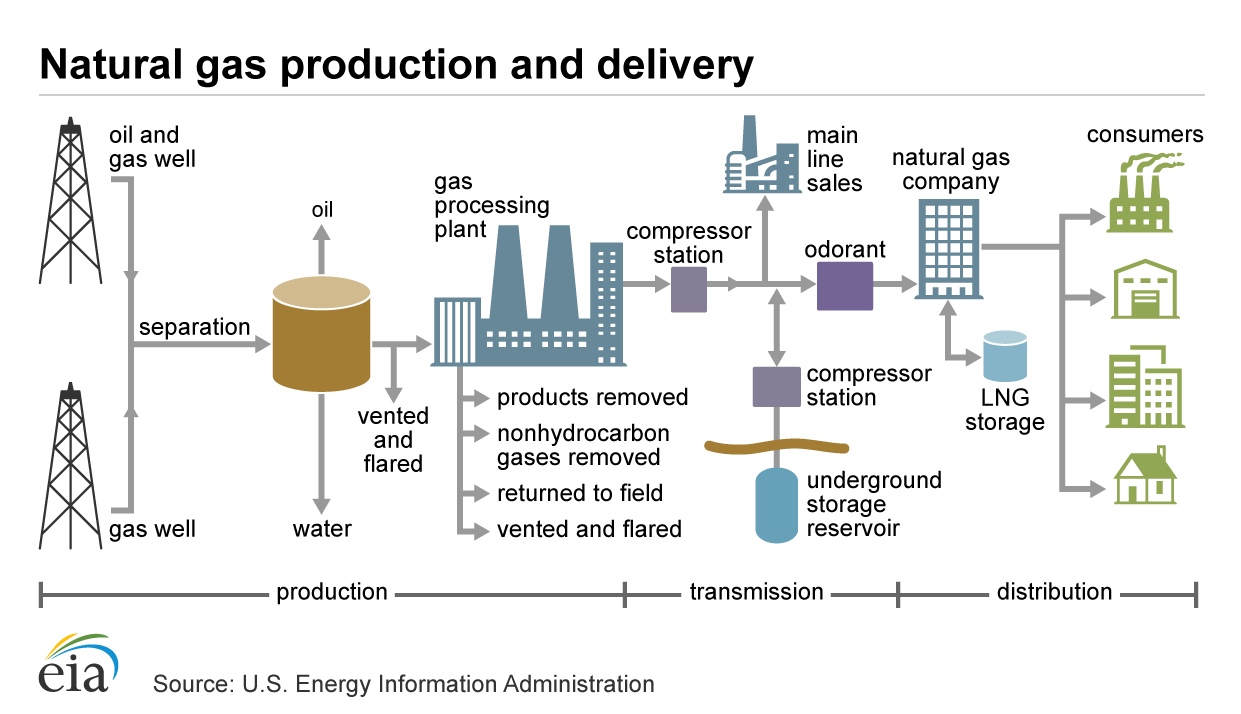 Now, we'll provide some more details on electricity. Like natural gas, we not only buy and sell electricity in the marketplace, but we own key generation assets. As defined by the EIA, "Electricity is the flow of electrical power or charge. Electricity is both a basic part of nature and one of the most widely used forms of energy. The electricity that we use is a secondary energy source because it is produced by converting primary sources of energy such as coal, natural gas, nuclear energy, solar energy, and wind energy, into electrical power. Electricity is also referred to as an energy carrier, which means it can be converted to other forms of energy such as mechanical energy or heat." We offer two simple pricing options for our customers – Fixed and Indexed. You can work with one of our trusted sales representatives to determine which makes the most sense for you and your business or organization.
Next, we will review liquefied natural gas or "LNG". Liquefied natural gas is natural gas that has been cooled to -260°F at normal air pressure. LNG is energy dense and can be safely transported by truck to various destinations. According to the EIA, "The volume of natural gas in its liquid state is about 600 times smaller than its volume in its gaseous state in a natural gas pipeline." LNG provides industrial users a replacement option for propane or fuel oil and can additionally be used as a diesel alternative in on-road trucks and mining vehicles. UGI Energy Services owns and operates several LNG assets, which are used for peak shaving, storage, liquefaction activities, and LNG tanker-truck loading and unloading.
UGIES also supplies propane and liquid fuel oil to customers. With six strategically located liquid propane gas (LPG) air plants, UGIES is involved in the transportation, storage, terminalling, and marketing of LPG, including throughput storage solutions and peaking services. We additionally have the capability to supply and deliver a variety of fuel oil products.
As a midstream services provider, UGIES connects producers, distributors, and marketers with the assets and services they need to serve their customers. We do this in a few key ways by linking supply to markets, building new pipeline capacity, integrating pipelines with storage, peaking, and power generation assets, developing new services to help utilities transition from long haul pipelines to local supplies, and providing producers with gathering services.
Lastly, UGIES offers customers the option of renewable natural gas or "RNG". Renewable natural gas is pipeline quality gas that is fully interchangeable with conventional natural gas. RNG is produced from organic matter such as manure and food waste that have been processed to purity standards. Once impurities have been removed, RNG can be used as a cleaner, greener, energy alternative. Other renewable energy options offered by UGIES in Carbon Offsets and Renewable Energy Credits (RECs).
Now all that's left to do is determine which energy option best suits you and your business! For more information on our products and services, visit our website at https://ugies.com/products-services/.