Today, November 11th, we observe a historic day with deep significance, Veterans Day. The U.S. Department of Veteran Affairs', Office of Public and Intergovernmental Affairs, explains the meaning of this day as "…A celebration to honor America's veterans for their patriotism, love of country, and willingness to serve and sacrifice for the common good." We are proud to honor all our veterans and thankful for our internal Veteran Employee Team (VET) that works hard all year long to support the communities where we live and work. UGI Energy Services is proud to honor the bravery and patriotism of our veteran community. We thank them for their dedication and service to our country. As a company, we strive to honor and support our veteran community in a variety of ways. We are proud to share the activities that our VET team has engaged in over the past year.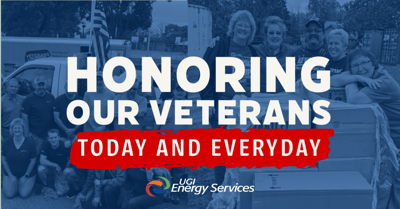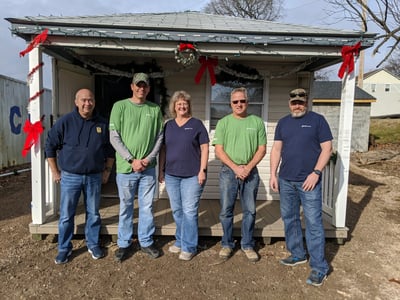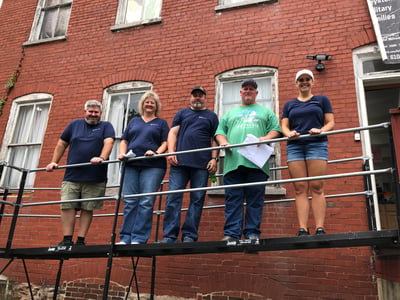 Last year, our company donated a Ford Truck to the Veterans Coalition of Pennsylvania (VCOP) that was filled with new clothes and food items, as well as personal hygiene items. According to the organization, "The VCOP mission is to perpetuate a collaborative initiative engaged in helping Veterans and their families by partnering with local, state and federal agencies and organizations to assist with reintegration, career development, mentoring, housing and other necessities of life outside the military." Shortly following, in November 2021, the UGIES VET committee also participated with the Veterans Coalition of PA for their food drive at Redner's in Sinking Spring. These donations touch many families in the surrounding area.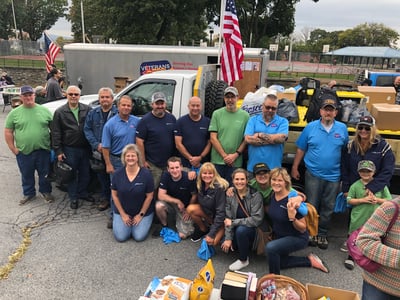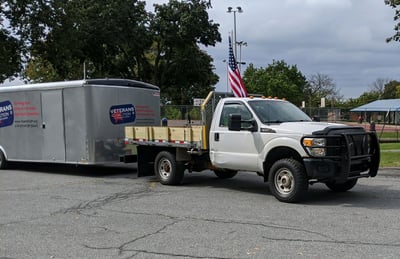 In June 2022, the VET committee collected American Flags from our co-workers for a proper disposal of the flags. This was greatly appreciated by our employees as our veteran team was able to follow a specific process to properly retire flags. Approximately 20 flags were collected.
We recently had a group of volunteers, organized by UGIES employee and VET committee member, Melinda Deamer, facilitate a donation for the Keystone Military Families organization. This organization assists the military and veteran community with groceries, clothing, household items and furniture, serving well over 150 families per week. They also provide guidance to families in need of medical, household, or financial assistance. UGI Energy Services purchased tins used to store food for packages to be sent overseas. Over the past year, our team has dedicated about 30 hours to volunteering with this organization.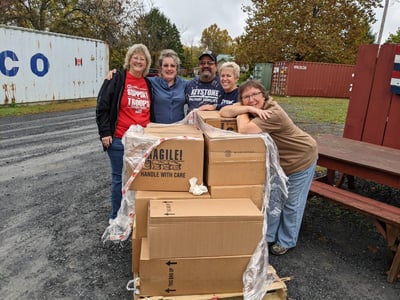 Our Corporate Veterans Committee recently organized a MRE mixer with our VET group. This was a wonderful event for our teams to come together and take pride in the work they do throughout the year. Everyone thoroughly enjoyed the comradery at this event and our team looks forward to future events.
Still to come in December, we will once again be participating in Wreaths Across America. This is a project near and dear to our hearts as many of our employees have found this to be a very meaningful experience. According to this organization, "Wreaths Across America coordinates wreath­-laying ceremonies at more than 3,400 locations across the United States, at sea and abroad." Their mission is to, "Remember our fallen U.S. veterans, Honor those who serve, and Teach your children the value of freedom." In January of 2022, we participated in the wreath clean-up which was a rewarding opportunity to work with this organization.
This year on Veterans Day, we are pleased to unveil a wall on the second floor of our home office building, honoring each of our veteran employees who has served our country. A picture with each employee and their name will be displayed and can be viewed throughout the year. With the help of our VET team, we are so proud to bring this project to fruition as a continuous reminder of service and courage. Our UGIES VET team is also happy to honor its employees on their designated Inception Days for each branch throughout the year.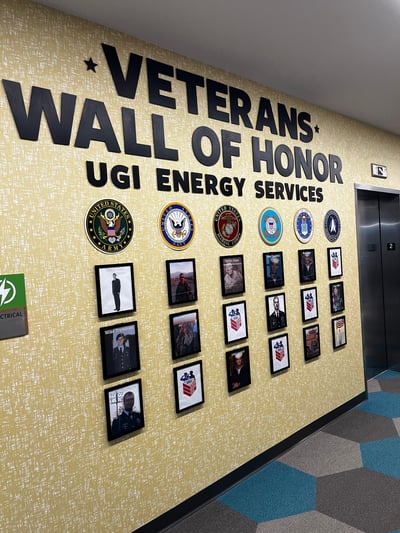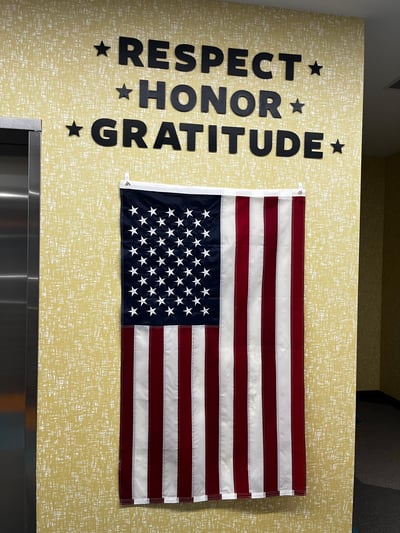 As we honor our veterans today and every day, we hope to convey our appreciation for their sacrifices and dedication to our country. Our efforts throughout the year are intended to keep our veteran community at the forefront of our goals as individuals and as a company. We look forward to the activities in 2023 and will share more updates along the way. Take a moment today to admire the American flag you have hanging at your home, call a relative that served our country, or drop a few food items off at a local veteran's organization. You can pay tribute to our veterans in a variety of ways, all which make an impact. For more events and ways to get involved, check with your local veteran agencies and organizations.