On Wednesday, October 27th, 2021 -- UGIES had the pleasure of sponsoring The Salvation Army's 2021 Advisory Board Annual Civic Breakfast at the DoubleTree by Hilton in Reading, PA. The expectations for this event were nothing short of exemplary and even those were surpassed! With that being said, who better to provide a synopsis of the morning other than UGIES' own Stacey Taylor who attended the event?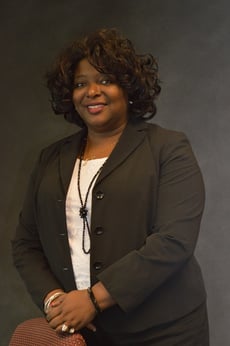 Stacey Taylor, Senior Collections Specialist
What an awesome experience! Great opportunity to see old friends and familiar faces. What a difference a year makes. More importantly, being able to sit in a room to forge new bonds with others in the community with shared and similar values.
This year's event felt different from others I've attended in the past. I'm not sure if that's just because it's been awhile since we've been in a large in-person gathering or because we've all played a part in the giving to others during what I'd consider to be the most catastrophic event in my lifetime. Regardless of the reason… it felt good being there today.
It's always good when we can come together to recognize and appreciate the selfless efforts of giving performed by organizations like the Salvation Army. And to celebrate those community members like the event's honorees, Mike & Diane Duff and Craig Poole, who believe in the mission and vision of service to the community as demonstrated through their kindness and generosity in giving.
Below are pics from my amazing morning..…the floral arrangement was given to me by Darby from the UW of Berks County. (They were given to the person seated at the table with a birthdate closest to today's date. Her birthday day was last Saturday. She already has a large bouquet in her office, so she gave them to me.) When leaving the hotel, I ran into an old friend, Chassiti Anderson, the General Manager of the Doubletree in Reading, PA, and she gave me a couple of their famous cookies. What a way to end a morning!
I was blessed by being present in the experience and walked away blessed by the compassion of friends. Life is good….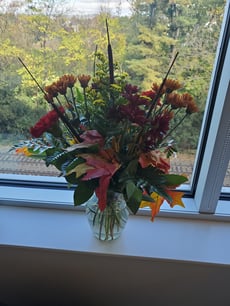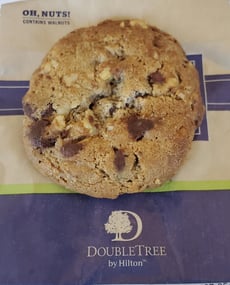 I left feeling more invigorated as a "fringe worker" helping to support others by simply doing the most good that we can in the community. I feel at peace knowing that I have done my best to be of service to others.
It was an honor to represent UGIES at this event.
Thank you, Stacey, for representing our company at this event and in the community, and for helping to show our support to another great organization, the Salvation Army.