As the saying goes, it's not just what you do, it's how you do it.
UGI Energy Services, LLC (UGIES) and Langan Engineering and Environmental Services, Inc. proudly accepted The American Council of Engineering Companies of Pennsylvania's (ACEC/PA's) annual Diamond Award for Engineering Excellence in an award ceremony held on January, 27, 2022. The Diamond Award, which was awarded for UGIES' Bethlehem LNG Facility, recognizes engineering firms for projects that demonstrate a high degree of achievement, value and innovation.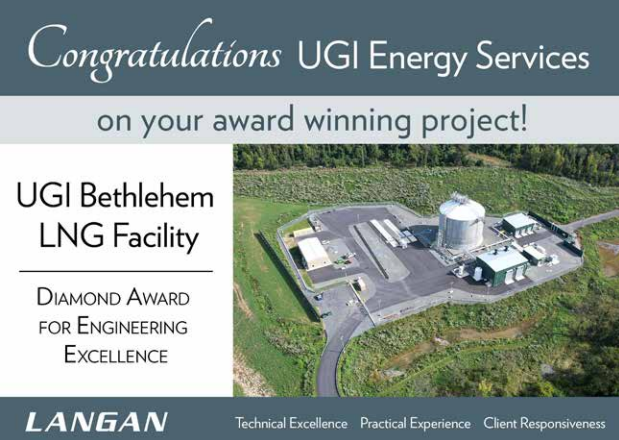 The award-winning project involved the construction of a two million gallon Liquefied Natural Gas (LNG) storage, trucking, and peak shaving facility in Bethlehem, Pennsylvania. The LNG facility provides natural gas to the territory during periods of extreme cold weather when other, traditional supply sources become more constrained. This project involved its own set of unique challenges, including rainfall and water concerns, a wide stream crossing, and ravine restoration efforts.
"The Bethlehem LNG project highlights the capabilities and resilience of our strongest asset…our people," said Dante D'Alessandro, Vice President of Engineering and Operations at UGIES. "Working together with a premier group of contractors and vendors, our project team successfully completed this state-of-the-art LNG peaking and trucking facility on time and on budget, despite the challenges of weather and COVID. From the creative use of a brownfield site to the careful restoration of a severely eroded stream, UGIES remains focused on the commitments to our customers while supporting our communities and protecting the environment."
Per ACEC/PA's description of the Diamond Awards, "A distinguished panel of judges is convened to critique the projects. These professionals have backgrounds in engineering, architecture, state and federal government, media, academia, and the military. Projects from across the globe are rated based on uniqueness and originality; future value to the engineering profession and perception by the public; social, economic and sustainable development considerations; complexity; and successful fulfillment of client/owner needs, including schedule and budget."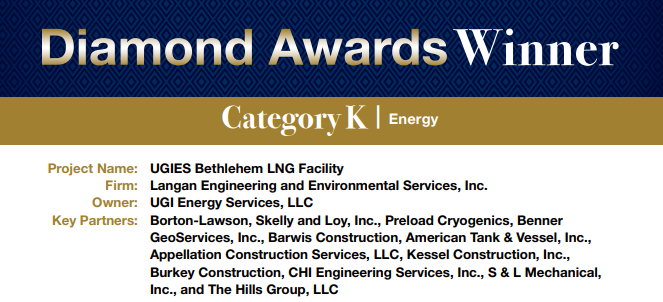 In November 2020, UGI Energy Services, LLC commissioned their new $60-million liquefied natural gas (LNG) peaking facility in Bethlehem, Pennsylvania. The plant includes a cryogenic, full containment storage tank that is 80-foot tall and holds two million gallons of LNG. LNG is produced by chilling natural gas to approximately 260 degrees below zero. During periods of extremely cold weather, the demand for natural gas to heat homes and businesses can increase dramatically in a short period. A natural gas peak shaving facility delivers an off-pipeline supply of natural gas to satisfy these spikes in demand. The Bethlehem LNG plant provides this service to the UGI Utilities distribution system in the Allentown-Bethlehem-Easton area.
The Bethlehem facility is located on a 99-acre parcel. The property was constrained with multiple natural resources, including wetlands, streams, floodplains, steep slopes, wooded areas, and varying depths of bedrock and karst. Intense regulatory permitting was required prior to construction for erosion and sediment pollution controls, flood impacts and temporary stream impacts for crossing of the East Branch Saucon Creek. Additional permitting included a stream restoration for approximately 1,000 linear feet of an unstable and highly eroded stream section of an unnamed tributary to East Branch Saucon Creek. The restoration stabilized the stream bank and reduced the streambed's steep slope and velocity in the channel to help limit future scour and erosion, thus protecting the tank and the site.
Langan Engineering and Environmental Services, Inc. provided multi-disciplined services from the initial planning phase through land development design and regulatory permitting, and through sitework construction. Langan Engineering and Environmental Services, Inc. worked with UGIES staff to develop the ultimate design that achieved project goals while maintaining the required operational site components.
ACEC/PA explains that "these award-winning projects significantly contribute to the quality of life for Pennsylvania citizens. The awards also recognize the involved design professionals for their expertise and dedication to our profession. We applaud and thank our members for making Pennsylvania a better place to live and work. This year's winners strengthened our infrastructure, enhanced public safety, raised the profile of the engineering profession, and offered sustainable, economical solutions for clients and taxpayers."
"UGIES takes great pride in cultivating relationships with local first responders, municipalities, regulatory bodies, and the surrounding neighborhoods in our footprint, said Kylie Kimball, Project Manager for Bethlehem LNG project. "Gaining trust and building relationships with a community who is largely unfamiliar with the Natural Gas industry, peaking, or trucking posed some significant obstacles for the Bethlehem LNG facility. In addition to engineering and construction itself, everyone involved in this project embraced our responsibility to educate where we reside. This became an opportunity for transparency and a level of accessibility that required regular interaction for approvals, permitting, and scheduling with Bethlehem City, Lower Saucon Township, Bethlehem Fire and Police departments, the NCCD, Public Utility Commission, Pennsylvania DEP, Pennsylvania Boat & Fish Commission, and even the USACE. The ACEC/PA Diamond award is a direct reflection of UGIES's focused commitment to our customers, safety, and the environment through partnerships."
The Diamond Awards Ceremony featured a presentation of project highlights, and acceptance of the award by Kyle Kimball on behalf of UGIES, and by Gregory Elko, PE, LEED AP on behalf of Langan Engineering. That presentation can be viewed below.
To learn more, visit our website at www.ugies.com