On May 23, 2023, UGI Energy Services (UGIES) was awarded the Greater Reading Chamber Alliance (GRCA) Business Excellence Award at GRCA's Annual Dinner. The Greater Reading Business Excellence Awards, presented by the GRCA and KPMG LLP, honors the area's most dynamic for-profit businesses and their contributions to the success of the entire community.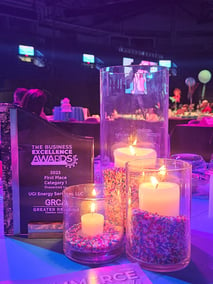 "The Greater Reading Chamber Alliance (GRCA) celebrated the excellence of the Berks County business community at its Annual Dinner held at the Santander Arena. More than 800 people attended the colorful cupcake and sprinkle-themed event, which was punctuated by a discussion with Candace Nelson, TV personality and producer with Netflix, Hulu and Food Network Entrepreneur as well as a NYT & WSJ bestselling author."
The fifty companies that made up the Business Excellence Awards in Category 1 (for-profit companies, with revenues of at least $1 million in each of the past three fiscal years) were announced at the event. UGI Energy Services, LLC took first place in the category. Singer Equipment Company, Inc. and Omega Systems, LLC rounded out the top 3.
A video premiered at the event that highlighted UGI Energy Services employees at their headquarters office in Wyomissing, PA. The video featured UGIES president, Joe Hartz, who spoke of the company's commitment to the Reading, PA area, and to charitable organizations like the United Way of Berks County.
Accepting the award for UGI Energy Services were Kelly Beaver, Vice President of Energy Marketing & Supply, and Shaun Hart, Vice President of Commodity Marketing, Growth & Retention.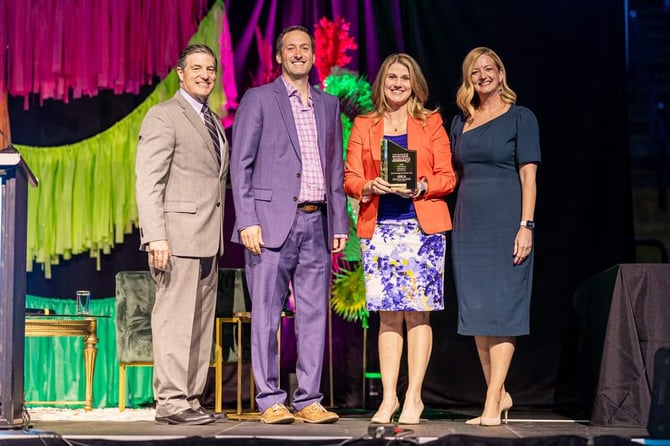 Category 2 featured smaller businesses and Pennsylvania Anesthesia Coalition, LLC; American Barber and Beauty Academy; and Catering by John Lowe made the top three. The recognized companies in Category 2 are for-profit businesses, with revenues of at least $250,000 in each of the past three fiscal years.
UGIES and Pennsylvania Anesthesia Coalition were both also featured in the newest edition of Commerce Quarterly magazine.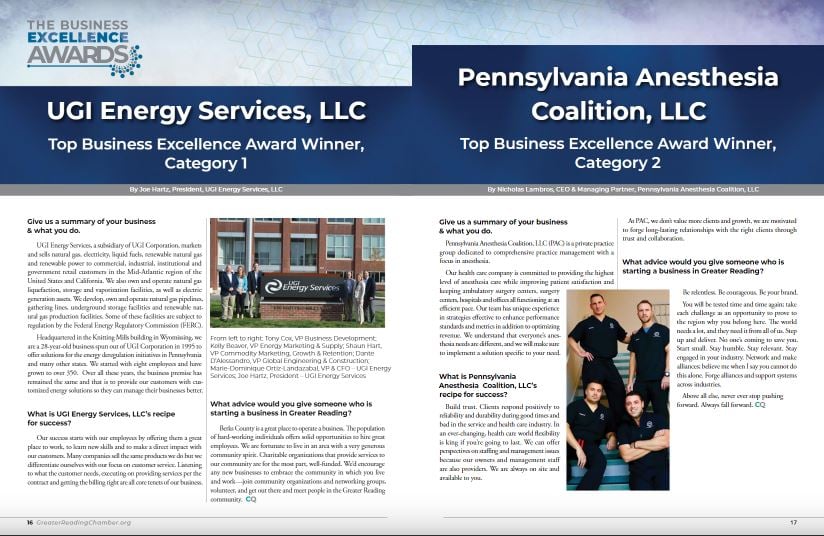 "What a great night to celebrate Berks County businesses and their incredible achievements," said Jim Gerlach, GRCA's President and CEO. "We have some of the greatest businesses in the nation right here in our backyard, and we should celebrate not only their economic successes, but their terrific contributions to our community as well."