There's no more telling sign of winter then the first big snowstorm. When the icy air makes its way to our region and the weather reports are buzzing, it's important to take some steps to prepare your home and/or business ahead of time.
Winter storms can cause distress when it comes to travel, communicating with loved ones, stocking your home with essentials, and losing power or access to energy sources. While the threat of a storm can certainly be scary, it's important to remember that with a little preparation, there is no need to fear. We sometimes only have a few short days or even hours to prepare for a winter event, but with a plan in place, this should allow you enough notice and time. We have some simple suggestions that can make the threat of a big storm a little less daunting. The most important piece of advice is to use your best judgement with travel or venturing outside (even if only to your mailbox).
It's important to develop a plan with your family or management team prior to the onset of a storm to get everyone on the same page. Sometimes a quick discussion is all it takes to alleviate any stressors. No matter how many members are in your family or crew, assigning a role to each can provide clear direction and allow for quick action when a situation does arise. Create a chart or guide with contact information for your local utilities, a list of tasks that need to be done ahead of time, and everyone's individual roles. The CDC provides a great example chart shown below that can provide some guidance when putting together a list of applicable items for your household or business.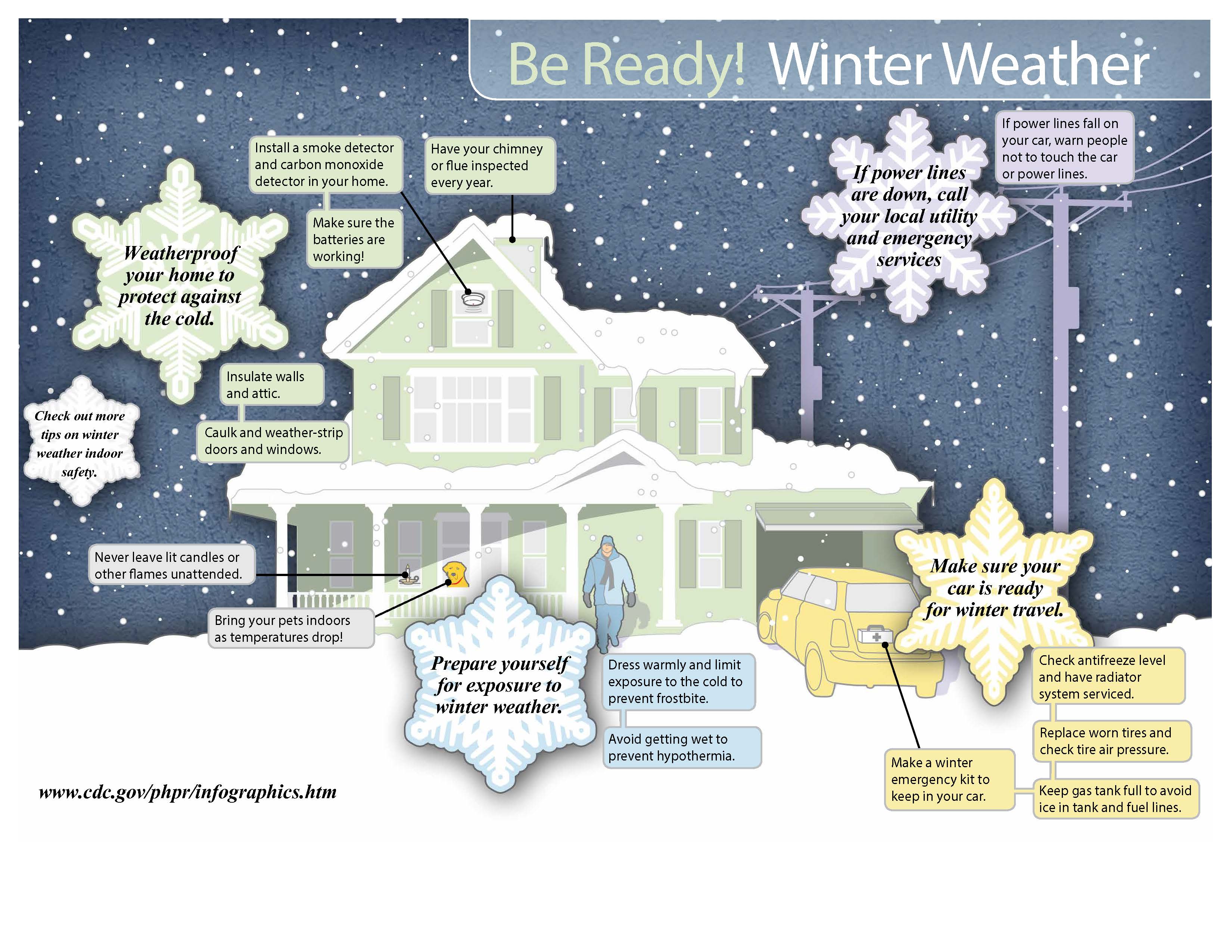 Stay in tune with your local weather forecasts
The weather can certainly be unpredictable so tuning in to your local weather forecast frequently is a good idea to get the most accurate, timely information about an upcoming storm. Winter storms can also present themselves fairly quickly. For example, a predicted full day of rain can easily turn into a day of sleet or snow with the change of a few degrees. Even when inclement weather isn't predicted, it's still not a bad idea to make checking the weather daily a part of your routine.
Check your supplies
Knowing what you need on hand in the case of an emergency is probably the most helpful way to prepare yourself. The last thing you need to worry about in inclement weather is getting to your local market or scrounging for food in an already stressful situation. The CDC provides a helpful list of food and water items to keep on hand and how to properly store and prepare them here https://www.cdc.gov/disasters/foodwater/prepare.html.
Take care of pets
Our pets are just as vulnerable, if not more so than us during inclement weather so be sure to keep them comfortable as well. Bring pets indoors. If you cannot bring them indoors, make sure they have proper shelter, are kept warm, and have access to unfrozen water.
Prepare your car
Regular car maintenance according to manufacturer standards is always recommended and is particularly important to keep in mind when preparing for inclement weather. Here and below, https://www.cdc.gov/disasters/winter/beforestorm/preparehome.html the CDC lists steps you should take for your vehicle every fall in preparation of the winter weather:
Have the radiator system serviced or check the antifreeze level yourself with an antifreeze tester. Add antifreeze as needed.
Replace windshield-wiper fluid with a wintertime mixture.
Make sure the tires on your car have adequate tread and air pressure. Replace any worn tires and fill low tires with air to the proper pressure recommended for your car (typically between 30-35 psi).
Keep the gas tank near full to help avoid ice in the tank and fuel lines.
Keep your car in good working order. Be sure to check the following: heater, defroster, brakes, brake fluid, ignition, emergency flashers, exhaust, oil, and battery.
It is also recommended by the CDC to avoid travel, but, when necessary, create an emergency car kit containing the following items:
Cell phone, portable charger, and extra batteries
Items to stay warm such as extra hats, coats, mittens, and blankets
Windshield scraper
Shovel
Battery-powered radio with extra batteries
Flashlight with extra batteries
Water and snack food
First aid kit with any necessary medications and a pocket knife
Tow chains or rope
Tire chains
Canned compressed air with sealant for emergency tire repair
Cat litter or sand to help tires get traction, or road salt to melt ice
Booster cables with fully charged battery or jumper cables
Hazard or other reflectors
Bright colored flag or help signs, emergency distress flag, and/or emergency flares
Road maps
Waterproof matches and a can to melt snow for water
Prepare your home
The CDC recommends prepping your home in a few important ways. First, weatherproofing your home according to the steps listed at the following link https://www.cdc.gov/disasters/winter/beforestorm/preparehome.html and below:
Insulate any water lines that run along exterior walls so your water supply will be less likely to freeze.
Caulk and weather-strip doors and windows.
Insulate walls and attic.
Install storm or thermal-pane windows or cover windows with plastic from the inside.
Repair roof leaks and cut away tree branches that could fall on your home or other structure during a storm.
Next, they recommend installing a smoke detector and battery-operated carbon monoxide detector and following the guidance below:
If you'll be using a fireplace, wood stove, or kerosene heater, install a smoke detector and a battery-operated carbon monoxide detector near the area to be heated. Test them monthly and replace batteries twice a year.
Keep a multipurpose, dry-chemical fire extinguisher nearby.
All fuel-burning equipment should be vented to the outside.
Each winter season have your furnace system and vent checked by a qualified technician to ensure they are functioning properly.
You also want to have your chimney or flue inspected each year to ensure you are safely operating a fireplace or wood stove. You can do this by checking with your local fire department or searching online to find a local inspector.
Lastly, install an easy-to-read thermometer in your home, particularly for homes with older adults. This can be very helpful when trying to determine whether a temperature is safe. Older adults may notice less of a change in temperature and may be more susceptible to health problems due to the cold weather. Be sure they have access to a thermometer and can regularly check the temperature.
We hope this information provides you with the tools you need to create a safe and secure environment during a winter storm. While weather can cause a multitude of disruptions in our everyday lives, preparation is our best line of defense. With these key pieces of guidance, we hope you feel confident to weather the next winter storm.
To learn more about UGI Energy Services, check out https://ugies.com/.