Recently, UGI Corporation launched an imperative that focuses on areas of diversity and inclusion within our company and the communities we continue to serve. In alignment with the company's core values, we have launched several initiatives to support the diverse segments of our workforce.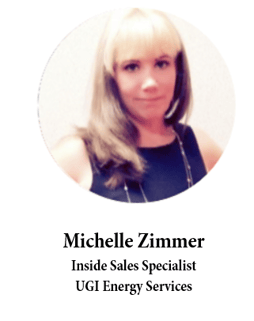 UGI's BIDE Imperative - Belonging, Inclusion, Diversity and Equity - was officially launched this past year, with these four areas serving as the pillars on which the company will focus. BIDE provides the blueprint for achieving greater diversity of thought, experience, culture, gender, race, age, veteran status, sexual orientation and other areas throughout our organization.
John Walsh, President and CEO of UGI Corporation wanted these four core pillars of BIDE to help build Culture, Career, Community and Commerce. As part of this imperative, UGI Corporation has supported the establishment of three employee resource groups (ERG's) - BOLD, WIN and VET.
BOLD
The Black Organizational Leadership & Development (BOLD) group was created to provide leadership, resources, professional development and community influence. BOLD in itself is a strong word; confident, courageous and the word itself holds power. This is the perfect word to describe the employees launching this initiative.
We asked one of the BOLD leaders: "how do you think BOLD will positively impact our company?"
"The support of BOLD from our senior leaders demonstrates a commitment to creating a more diverse and inclusive corporate culture. BOLD will enhance the experience of its members and allies by providing programs and opportunities that support professional development, cultural transformation, and outreach. I am excited to be one of the founding members driving this BOLD change. " Monique Yelder, Project Manager – Project Teton, AmeriGas.
The group is focused on inclusion, equity, education, and empowerment and will assist leadership with communication, talent recruitment and retention, and promotion of black employees. BOLD will focus on professional development by creating mentoring and sponsorship opportunities, increasing exposure through networking and career development events and sponsoring educational activities, such as lectures featuring distinguished speakers.
WIN
The Women's Impact Network (WIN) is a well-established ERG at our sister company, AmeriGas, and has now been expanded to UGI Energy Services and UGI Utility employees as well. Julia Hager is leading the WIN efforts at UGI Energy Services. The WIN mission is to "foster an environment for women to be recruited, retained, developed and advanced as AmeriGas leaders to increase the company's competitive advantage." WIN is not just for women - men are encouraged to participate. Though UGIES is in its early stages of rolling out its WIN program, it is taking lessons learned from AmeriGas, who's had an established program since 2016.
VET
The Veteran Employee Team (VET), led by Kevin Grant and Brian Byerly, was also established to extend similar resources and support to the veterans working at UGI. VET brings together Veterans and Veteran Allies from across the family of UGI businesses with the goal of strengthening Veteran recruitment, retention and growth while positively impacting our local communities.
Diversity in the Community
UGI's diversity and inclusion efforts extend beyond our workforce to the customers and communities we serve, including our supplier base, supported through the commerce pillar. Diverse suppliers increase competition, improve savings, and enable innovation. In order to provide the appropriate leadership and focus in this area, UGI Corporation created a new position, Global Head of Supplier Diversity & Social Responsibility, which is now held by Alisa Harris.
To extend the BIDE Imperative into our communities, UGI Corporation established new partnerships with the Urban Affairs Coalition and Big Brothers Big Sisters. Additionally, UGI recently made a gift of $300,000 to Penn State Harrisburg to support educational equity and diversity in science, technology, engineering, and math ("STEM") education programs. A $250,000 donation, which was matched by the University, created the UGI Diversity, Equity and Inclusion Scholarship. To enhance UGI's scholarship, the company contributed an additional $50,000 to create the Diversity and STEM Advancement Program Fund. This fund will provide annual support for five years to enrich both diversity and STEM initiatives at the college.
These initiatives are just a few of the ways UGI is recognizing the importance of inclusion and diversity in the workplace. UGI is always looking to do more to support our employees and create a workplace of which we can all be proud. Hand in hand we stand next to these four pillars and make a difference – and we are doing it together.