Memorial Day is a day to honor and appreciate the brave men and who lost their lives while defending their country. It is celebrated annually on the last Monday in May. The holiday originated in the years following the Civil War and became an official federal holiday in 1971. This day also is an opportunity for us to thank our veterans for their service and sacrifices they made for our country. Here at UGI Energy Services we did just that with the help of our VET (Veteran Employee Team) team! Brian Byerly (who came out from Pittsburgh!), Mindy Deamer, Greg Myers, Dante D'Alessandro and Jackie Nawa have done a spectacular job organizing this event.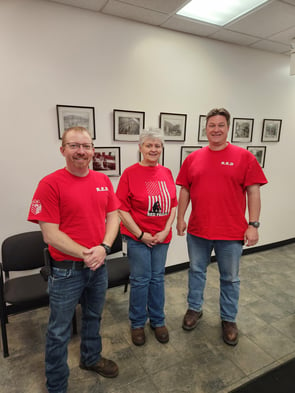 Chet Wadzin, Dean Miller and Rich Lewis at our Hunlock, PA location
The Significance of Memorial Day & National Military Appreciation Month
The month of May is also National Military Appreciation month. This is a great time to recognize the bravery, dedication, and patriotism of out veterans. Special observances during National Military Appreciation Month include:
May 12: Military Spouse Appreciation Day
May 13: Children of Fallen Patriots Day
May 20: Armed Forces Day
May 29: Memorial Day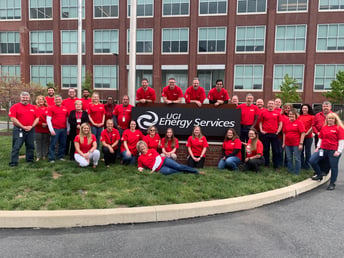 UGI Energy Services employees at our Wyomissing headquarters wear red in honor of National Military Appreciation Month. Funds raised from the R.E.D (Remember Everyone Deployed) t-shirt sale were donated to local charities in support of veterans.
UGI Energy Services Raises Funds for Veterans' Charities
UGI Energy Services' Veteran's Employee Team (VET) held a fundraiser in May to raise money for local charities in support of veterans. Through the support of our employees, $1,888 was raised to support Mission 22 and Veterans Coalition of Pennsylvania (VCOP). UGIES also presented a separate donation to VCOP in support of our annual outreach program.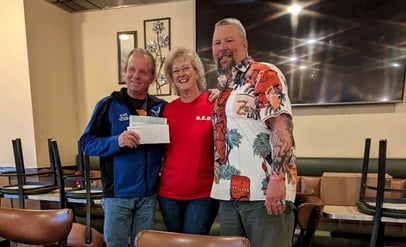 UGIES' VET Team Member Mindy Deamer presenting a check donation to Robin Gilmore and Chis Bower of The Veterans Coalition of Pennsylvania.
UGI Energy Service's VET Chapter's mission is to serve UGI military veterans by providing a network for personal support and professional growth; serve veterans in our communities by honoring their contributions and reaching out to help; serve UGI Energy Services by leveraging veterans' skills and abilities through recruitment and retention. VET has four committees: Volunteering, Outreach, Recruiting, and Recognition.
VET is an Employee Resource Group (ERG) that brings together military veteran employees, family members, and supporters to strengthen UGI and positively impact the communities in which we work through continued selfless service.
Ways to Celebrate Memorial Day
There are many ways to celebrate Memorial Day and show appreciation for our veterans. Here are some ideas:
Attend a Memorial Day ceremony or parade. Many communities hold ceremonies and parades to honor their local veterans. These events are a great way to show your support for our veterans and to honor those who made the ultimate sacrifice.
Visit a veteran. Many veterans are elderly or disabled and may be living in nursing homes or assisted living facilities. A visit from a caring person can make a big difference in their day and let them know that their service is appreciated.
Volunteer at a veteran's organization. There are many organizations that serve veterans, such as the Veterans of Foreign Wars (VFW), the American Legion, Mission 22 and the Veterans Coalition of Pennsylvania (VCOP). These organizations provide a variety of services to veterans, such as assistance with VA benefits, job training, and counseling. Volunteering your time to support these organizations is a great way to show your appreciation for our veterans.
Donate to a veteran's charity. There are many charities that support veterans and their families, such as the Wounded Warrior Project and the Fisher House Foundation. Donating to these charities is a great way to help support our veterans and their families.
Local Ways to Help Our Vets
Below are a few of the local veterans' organizations with which UGI Energy Services has been working. If you're looking to make an impact in the lives of our great veterans, these organizations would be a great place to get started!
Veterans Coalition of Pennsylvania (VCOP)
VCOP is a nonprofit organization formed to better serve the needs of Veterans and their families. The VCOP mission is to perpetuate a collaborative initiative engaged in helping Veterans and their families by partnering with local, state, and federal agencies and organizations to assist with reintegration, career development, mentoring, housing, and other necessities of life outside the military.
Learn more: www.teamucop.org.
Keystone Military Families
Keystone Military Families is an organization that provides support for military families in the Berks County region with groceries, clothing, household items, and furniture. About 150 families are assisted each week.
Learn more: www.keystonemilitaryfamilies.org.
Mission 22
Mission 22 provides support to Veterans and their families when they need it most. Through a comprehensive approach of outreach, events and programs, they promote long-term wellness and sustainable growth.
Mission 22's programs for Veterans and military spouses offer biometric monitoring of stress, sleep, and activity levels; medication and coaching exercise programs and a wellness supplement regime, and books and learning resources to help veterans put their experience in context.
Learn more: www.mission22.com